Heb jij oog voor verbeteringen en optimalisaties en weet je daarmee het productieproces te professionaliseren? Geef jij op een coachende, inspirerende en daadkrachtige wijze leiding aan je team? Ben jij de verbindende Productieleider die de assemblage van Viscon naar een hoger niveau tilt?

Wat ga je doen?
Je bent verantwoordelijk voor het opstellen, implementeren en realiseren van het productieplan. Je ziet waar de bottlenecks in het productieproces zitten en zorgt ervoor dat hier continu op gefocust wordt. Je bent verantwoordelijk voor het totale proces in de assemblagehal waar de grote en technisch complexe machines worden gemonteerd en 'verzendklaar' worden gemaakt.
De assemblagehal bestaat uit werkplaatsen van verschillende marktsegmenten: Visser Horti Systems, MyConveyer, Hatchery, Fresh Produce & Logistics. In totaal zijn dit tussen de 35-40 FTE (afhankelijk van de flexibele schil).
Je zorgt voor de professionalisering van het assemblageproces om zo samen met het team de hoogst mogelijke operationele efficiëntie te bereiken tegen minimale kosten, waarbij veiligheid hoog in het vaandel staat. De voortgang van projecten en resultaten houd je in het oog en waar nodig stuur je bij. Verbeterprojecten worden door jou geïnitieerd en succesvol uitgevoerd waarbij je zorgt voor een goede afstemming en samenwerking met betrokken partijen.
Een andere activiteit waar je verantwoordelijk voor bent is het opzetten van de bedrijfsschool. Het opleiden van medewerkers en het creëren van ontwikkeltrajecten staat daarbij centraal. Je draagt zorg voor het welzijn, de motivatie en het juiste kennisniveau van je team om een optimale personeelsbezetting te garanderen. Je bent verantwoordelijk voor diverse HRM werkzaamheden, zoals het uitvoeren van verzuimbegeleiding en functionerings- en beoordelingsgesprekken. Je geeft op een inspirerende, sturende en coachende manier leiding aan je team, waarborgt kwaliteit en kwantiteit van de assemblage afdeling, stuurt op KPI's en richt processen optimaal in.
Wat vragen we van je?
Je hebt de ambitie om doelen te bereiken en tastbare resultaten te boeken. Je bent een stuwende kracht voor productieoptimalisatie en (proces)verbeteringen.
Je hebt bewezen de operationele efficiency in een organisatie te kunnen vergroten en weet wat het is om veranderingen door te voeren en medewerkers daarin te motiveren en mee te krijgen.
Je bent in staat om de weerstand die een verandering vaak met zich meebrengt om te buigen in een positieve en langdurige cultuurverandering. Je vindt het een uitdaging om te werken in het spanningsveld van leverdruk, verbeterprocessen en de dagelijkse assemblage werkzaamheden.
Je bent van nature sturend en richtinggevend en weet anderen te inspireren en te motiveren. Je zorgt ervoor dat collega's met je én voor je willen werken. Met jouw helicopterview weet jij om alle omstandigheden het overzicht te behouden en de rust te bewaren. Ook stel je prioriteiten en durf je beslissingen te nemen.
Resultaat- en oplossingsgericht, kwaliteitsbewustzijn, veiligheid en efficiency zijn kernwoorden die als een rode draad door jouw carrière lopen. Daarnaast ben je analytisch, initiatiefrijk, scherp, overtuigend, vernieuwend, flexibel en hands-on.
Je beschikt over uitstekende communicatieve vaardigheden; je communiceert duidelijk en to the point, hartelijk, evenwichtig en overtuigend. Je kunt overtuigen, snel schakelen (afhankelijk van de setting en gesprekspartners), hebt een goed luisterend oor en aanpassingsvermogen.
Verder beschik je over:
Een afgeronde hbo-opleiding, bij voorkeur Werktuigbouwkunde;
Minimaal vijf jaar leidinggevende ervaring binnen een productiebedrijf waarbij kwaliteit en veiligheid hoog in het vaandel staan;
Kennis van moderne verbetertechnieken;
Je bent bekend met moderne assemblagetechnologieën en processen;
Bij voorkeur kennis en ervaring met producten, processen en materialen in een technische internationale productieomgeving;
Uitstekende beheersing van de Engelse en Nederlandse taal.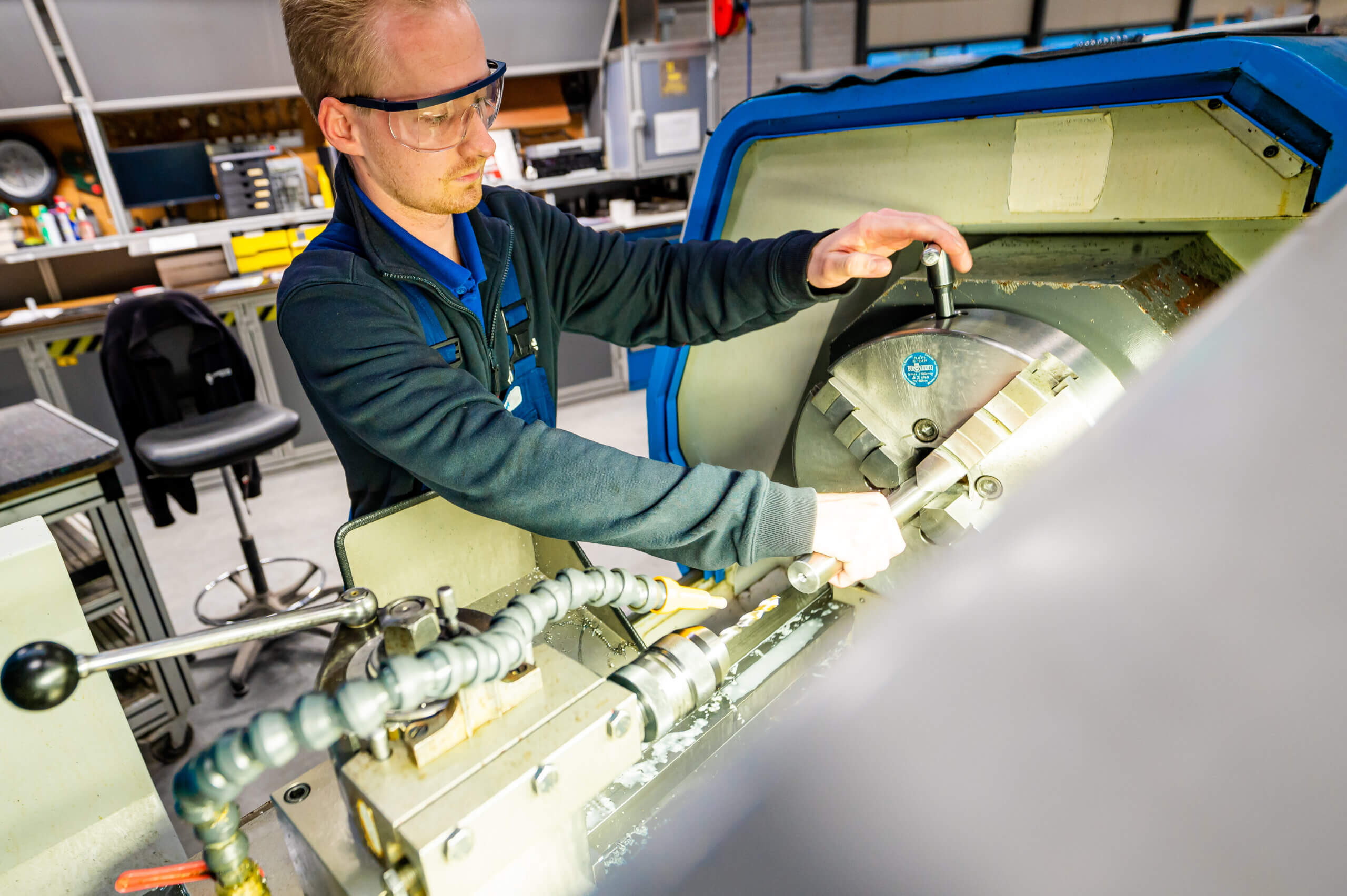 Wat kunnen we je bieden?
Je bent van harte welkom in onze innovatieve werkomgeving en nodigen je uit ook met deze mindset aan de slag te gaan.
Er is bij ons veel ruimte voor jouw visie en inbreng, we vinden het fijn als je meedenkt over nieuwe mogelijkheden.
Je werktijden zijn (in overleg met je collega's) flexibel in te delen.
Een goede balans tussen thuiswerken en werken op de zaak. Hiervoor faciliteren we je met een thuiswerkplek en je ontvangt een thuiswerkvergoeding op je thuiswerkdagen.
25 vrije dagen.
Een goede overurenregeling.
Natuurlijk bieden we je ook een marktconform salaris.
Mochten je ambities om verdere opleiding vragen, is hier een persoonlijk opleidingsbudget voor beschikbaar.
Waarom je deze functie juist bij Viscon wilt uitvoeren?
We zijn een organisatie die altijd balanceert tussen de dynamiek van innovativiteit en de structuur van standaardisering. Onze klanten in de Agro & Food sectoren willen namelijk de nieuwste techniek en dit betekent dat het bij ons nooit saai is! Elke dag werken er bij ons 300 collega's mee aan de meest innovatieve, kwalitatieve en creatieve oplossingen om producten van  A naar B te verplaatsen binnen productieorganisaties. Waarbij A het geoogste/ geproduceerde product is en B, dat is bij jou in je winkelwagen! Van zaadje tot tomaatje, van jong plantje tot perkgoed, van ei tot kuiken.
Werving & selectiebureau of detacheringsbureau? We stellen de interesse op prijs en begrijpen dat jullie als intermediair de kandidaten onze toffe posities willen voorleggen en zo bijdragen aan onze ambities. Maar dit is niet hoe wij onze werving hebben ingericht. Dit betekent dat alle ongevraagde profielen die worden aangeboden op Viscon vacatures, als directe sollicitaties zullen worden behandeld.