Installation & Technical support specialist (EN)
Are you a real controller and do you enjoy traveling all over the world to ensure that the machine lines are handed over to the customer according to all protocols? Come join Vinovo our expanding business unit as an Installation & Technical support specialist!
What are you going to do?
In the position of Installation & Technical support specialist you are responsible for the validation of the machines and their commissioning. You travel after the machine line is installed, check and inspect it. You test the machines and take care of the transfer room process. You also plan the Audit inspections and make improvement plans for the hatcheries and carry out supporting actions regarding In-Ovo vaccination.
In addition to this machine-related work, you are also involved in the procedures around it. You train the staff of the hatchery with regard to the operation of the equipment. And you regularly consult with the project leader and report the progress of the project.
What do we ask of you?
You have experience in Poultry/Chick Production and Hatchery environment.
You have relevant work experience in mechanical engineering.
You like to travel regularly to visit our customers.
Working independently is not a problem for you.
You have good communication skills and are highly customer-oriented.
You are solution-oriented and analytical.
You can speak and write in English fluently.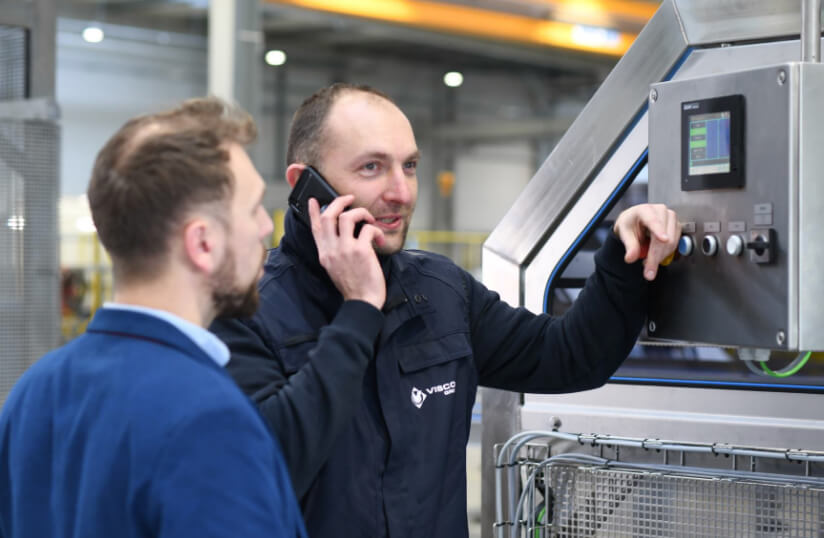 What can we offer you?
Since we are working on creative solutions for our customers every day, you'll be inspired by our innovative work environment.
We appreciate your opinion and ideas, we like it if you help us think about new opportunities.
Your working hours can be flexible (in consultation with your colleagues).
25 days off.
A good overtime arrangement.
Of course, we also offer you a competitive salary!
If your ambitions require further training, a personal training budget is available for this.
Why do you want to perform this function at Viscon?
We are an organization that balances between the dynamic of innovation and the structure of standardization. Our customers in the Agro & Food sector always want the newest and best techniques, which means there's never a dull moment at Viscon Group! 300 employees work at our company each day in order to create the most innovative, qualitative and creative solutions in order to move products from A to B in production organizations. Here's A the produced product and B the one in your grocery bag! From seed to tomato, from young plant to bedding plant, from egg to chick to Hen
The business unit in which the position is available is our Vinovo department, this unit is related to Viscon Hatchery Automation along with NestBorn. Vinovo specializes in groundbreaking and innovative techniques that contribute to the health of the chick thanks to a production process that is hygienic and animal-friendly. Innovation, such as Live Embryo Detection, which uses heart rate technology Or the in-ovo technique, in which the vaccine is given to the Chick with a special needle already brought inside the egg before the chick Hatches. Our automation prove the highest levels of welfare to provide healthier and more robust chicks which in turn give the hatched chicks the best start in life.
Recruitment & selection agency or secondment agency? We appreciate the interest and understand that you as an intermediary want to present the candidates with our open positions in order to contribute to our ambitions. But this is not how we have set up our recruitment. This means that all unsolicited profiles offered on Viscon vacancies will be treated as direct applications.