Elektromonteur bekabelaar internationaal
Is het bekabelen van machines helemaal jouw ding en vind je het leuk om in het binnen- en buitenland aan de slag te gaan? Dan heeft Viscon Group jouw droombaan beschikbaar!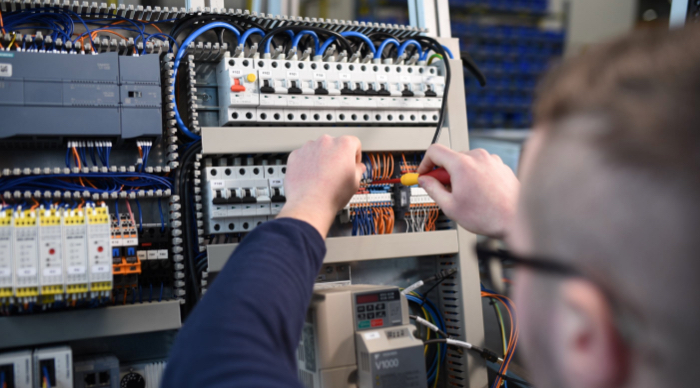 Als bekabelaar internationaal zul je na een inwerkperiode in Nederland klaargestoomd worden om onze machines wereldwijd te bekabelen. Daarmee word jij het visitekaartje van ons bedrijf! Vooraf de reis zorg je dat je over de elektrotechnische schema's en bekabelingsmaterialen beschikt, zodat je gemakkelijk bij de klant aan de slag kunt. Je reist achter de machinelijn aan nadat deze in 's-Gravendeel zo goed als mogelijk is bekabeld en jij de machines vlekkeloos kunt aansluiten. Over het algemeen werkt je in teamverband met collega's en lokale monteurs.
Je hebt een afgeronde opleiding MBO elektrotechniek niveau 3 of 4.
Je hebt minimaal 3 jaar relevante werkervaring als bekabelaar.
Je spreekt Nederlands, maar kunt je ook in het Engels verstaanbaar maken.
Het lezen van technische tekeningen is voor jou gesneden koek.
Je bent een teamspeler, maar kunt ook zelfstandig werken
Je hebt er geen bezwaar tegen om op reis te gaan!

Je bent van harte welkom in onze innovatieve werkomgeving en nodigen je uit ook met deze mindset aan de slag te gaan.
Er is bij ons veel ruimte voor jouw visie en inbreng, we vinden het fijn als je meedenkt over nieuwe mogelijkheden.
25 vrije dagen.
Een goede overurenregeling.
Natuurlijk bieden we je ook een marktconform salaris.
Mochten je ambities om verdere opleiding vragen, is hier een persoonlijk opleidingsbudget voor beschikbaar.
Waarom je deze functie juist bij Viscon wilt uitvoeren?
We zijn een organisatie die altijd balanceert tussen de dynamiek van innovativiteit en de structuur van standaardisering. Onze klanten in de Agro & Food sectoren willen namelijk de nieuwste techniek en dit betekent dat het bij ons nooit saai is! Elke dag werken er bij ons 300 collega's mee aan de meest innovatieve, kwalitatieve en creatieve oplossingen om producten van  A naar B te verplaatsen binnen productieorganisaties. Waarbij A het geoogste/ geproduceerde product is en B, dat is bij jou in je winkelwagen! Van zaadje tot tomaatje, van jong plantje tot perkgoed, van ei tot kuiken. Dat is toch reden genoeg om bij ons te komen werken?
Werving & selectiebureau of detacheringsbureau? We stellen de interesse op prijs en begrijpen dat jullie als intermediair de kandidaten onze toffe posities willen voorleggen en zo bijdragen aan onze ambities. Maar dit is niet hoe wij onze werving hebben ingericht. Dit betekent dat alle ongevraagde profielen die worden aangeboden op Viscon vacatures, als directe sollicitaties zullen worden behandeld.