Opdracht business model canvas
Zoek jij een uitdagende en leerzame stage in Zuid-Holland, omgeving Rotterdam/ Dordrecht? In 's-Gravendeel (Hoeksche Waard) kan je die vinden!

Omschrijving
Viscon Group vindt het leuk om de technologie in te duiken en te blijven innoveren. Zo doen wij dat ook bij onze business unit Viscon Plant Technology waar wij altijd bezig zijn om nieuwe projecten te ontwikkelen voor de tuinbouwsector. Daarom zijn wij voor deze opdracht op zoek naar een student die het leuk vindt om aan de slag te gaan met het maken van een business model canvas voor verschillende nieuwe projecten die deze business unit op de markt wilt gaan zetten.
Op dit moment wordt er gebruik gemaakt van het stage gate model. Voordat zij fase 2 in kunnen, moet er een business case gebouwd worden om te kijken of de nieuwe producten interessant genoeg zijn om te gaan ontwikkelen. Hier kom jij om de hoek kijken. Je gaat aan de slag met het maken van een overzicht van de te ontwikkelen producten, het invullen van het business model canavas inclusief marktonderzoek en het intern onderzoeken van verschillende stakeholders. Weet jij dit vraagstuk op te lossen?
Naar wie zijn wij op zoek?
Je volgt een HBO opleiding in de richting van commerciële economie, International business of bedrijfskunde.
Je vindt het leuk om zelfstandig aan de slag te gaan.
Je bent niet bang om vragen te stellen en je hebt commercieel inzicht.
Je schakelt makkelijk over naar de Engelse taal.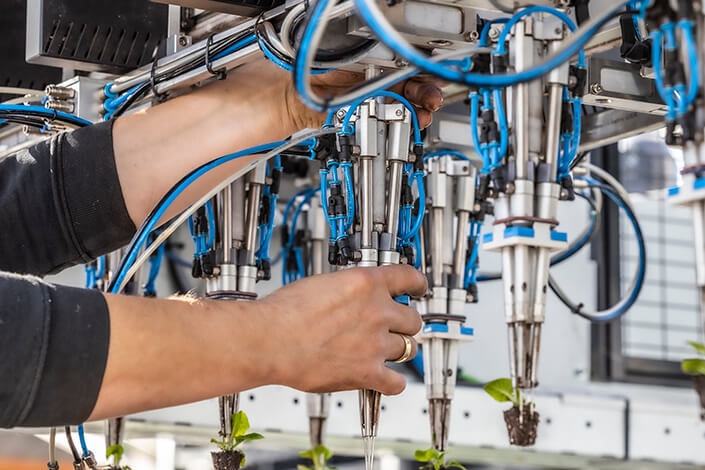 Wat hebben wij te bieden?
Veel ruimte voor eigen initiatief.
Dynamische en innovatieve werkomgeving.
Uitstekende financiële vergoeding.
Een kick-off bijeenkomst waarbij je alle in's en out's van het bedrijf leert kennen.
Je ontvangt een handboek met alle informatie waarmee jij de weg in het bedrijf kan vinden.
Aan het einde een evaluatiegesprek om de toekomst te bespreken!
Over Viscon Group
Viscon is een internationaal opererende onderneming, die middels topkwaliteit en sector-veranderende innovaties de positie op de markt wil waarborgen. Viscon ontwikkelt productielijnen om productieprocessen te automatisering in de Industrie Groente & Fruit, Kuikenbroederijen & Distributiesystemen.
Wij zoeken jou voor de business unit Viscon Plant Technology. Zij specialiseren zich wereldwijd in machines en productielijnen in de high tech tuinbouw. Robotica, hydroliek, pneumatiek, cameratechnieken, je vindt het allemaal. De tuinbouw is een van de meest innovatieve sectoren in de Nederlandse economie en daarom krijg je veel te maken met nieuwe ideeën en ontwikkelingen.