Honest and Viscon collaborate to accelerate robotic solutions for high-tech greenhouses
Viscon and Honest AgTech announce their strategic collaboration to advance the development of solutions that enable fully automated harvest logistics for greenhouse vine crops. The shareholders of Viscon Group helped kick-start the Delft-based startup by being the pre-seed investors. This enabled Honest to ramp up the team, further develop the technology stack, and test it in greenhouses.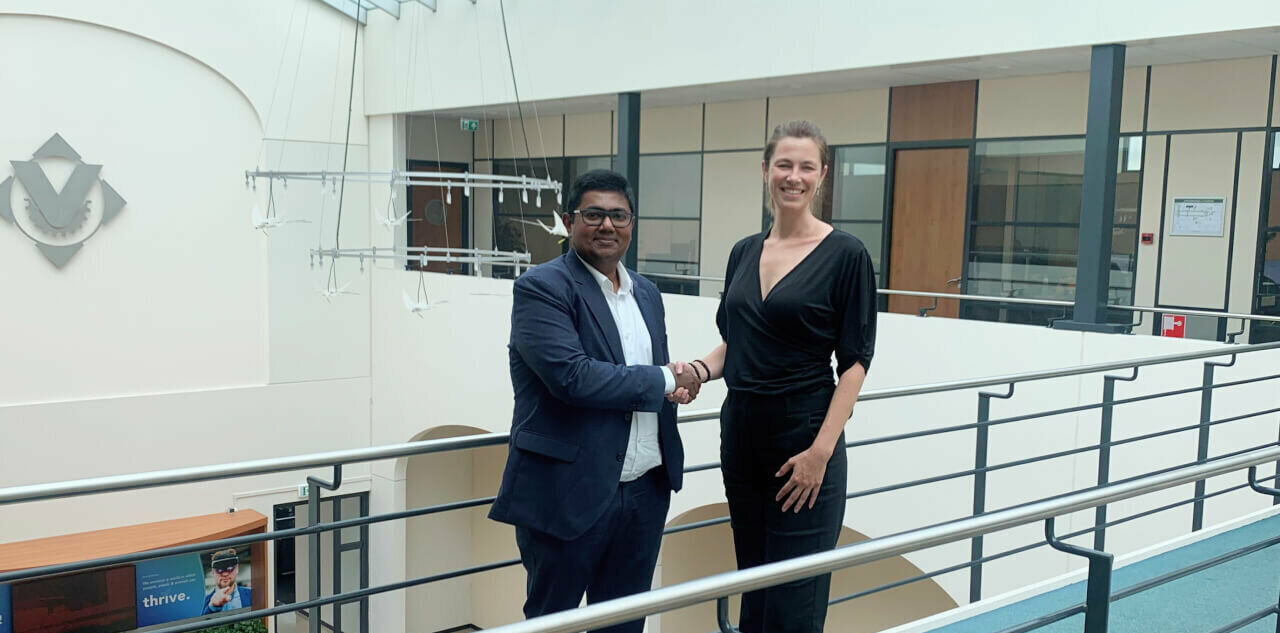 Photo: Honest CEO Renji shaking hands with Viscon CSO Charlotte
Honest's Chief Executive Officer, Renji John: 'With Viscon, we have a versatile partner with a long-standing reputation in process automation for food and agriculture. Honest can leverage Viscon's expertise in the food logistics space and their engineering & production capabilities as we continue to build autonomous robotics solutions for high-tech greenhouses. This collaboration is a force-multiplier for us as we build autonomous robots that can carry out various activities – such as de-leafing & harvesting – currently being done by humans.'
Viscon's Chief Strategy Officer Charlotte Langerak: "Honest's mission to develop technology to enable unmanned greenhouses fits our strategy to fully design our customers' processes in fruit and vegetables. We are passionate about agri and food processes and the limitless possibilities of technology. By partnering with Honest, we will be able to seamlessly connect pack-house logistics to the harvesting process, which will be executed by machines in the near future. Within the Viscon Group, all machine automation & software products, from breeding to packed products, will be available as one integrated solution. We are excited about the opportunities created by the combined competencies of Honest, our business unit Viscon Fresh Produce and our software division Viscon Factory Intelligence. To reaffirm our commitment, we made a substantial investment in Honest in early 2021.
About Honest AgTech:
Honest, a Dutch startup, is on a mission to tackle the most significant bottleneck to food production within commercial greenhouses – labor – using robotics & AI. To this end, they are building autonomous robots. A key goal that Honest AgTech is working towards is fully autonomous and highly productive greenhouses that do not rely on humans for operation. This will disconnect reliance on labor from horticulture and improve the scalability of food production in protected environments.
About Viscon Group:
Viscon is a leading manufacturer of software, machinery, and integrated solutions that enable the world to produce, distribute, and enjoy healthy fresh food, flowers, and plants. The Viscon team has no bounds when it comes to adventure, diversity, and inspiration. As tech enthusiasts, we dive head-first into challenging processes, using technology to create innovative solutions.